Welcome to the Sacred Earth Expedition in the Balkans!

Join us on this epic adventure, led by Asil and our team of experienced facilitators, including George from Ascension One Collective. This once-in-a-lifetime opportunity will take you on a journey of exploration, discovery, and transformation as we delve into the sacred sites and hidden gems of Bosnia and Croatia.
Our Sacred Earth Expeditions are designed to connect you with the energy grids of the planet, unlock restorative healing powers found at sacred sites, and activate your own experiential immersion, guided by divine energies and supported by a community of like-minded individuals.
The Balkans region is known for its rich cultural heritage, geographical diversity, and history of conflicts and revival movements. As we travel from Sarajevo to Split to Rijeka, we will explore everything from the Bosnian pyramids to the ley lines of Istra, and sites along the Croatian coast. This unique journey will require preparation, dedication, commitment, and resilience from the participants, as we dive into the depths of ancient cultures and awaken dormant codes of humanity.
Watch the video below for a short overview of our Sacred Earth Expedition through the sacred sites and gorgeous landscapes of Turkey.
Come and join us on this journey of a lifetime, where we will explore the ancient wisdom of the Balkans and activate our own spiritual potential.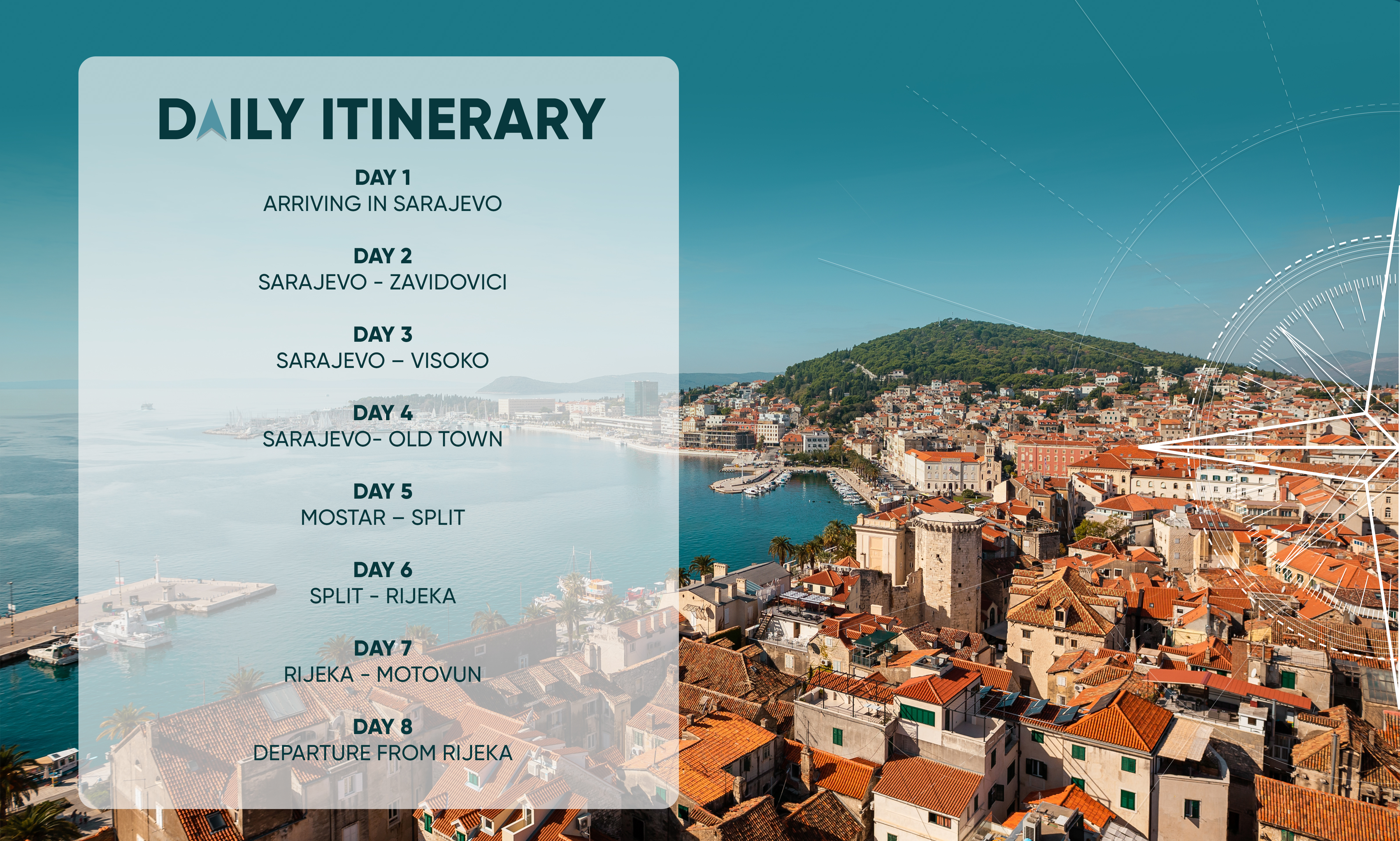 REGISTRATIONS ARE CLOSED!
If you identify with three or more of the following statements, this spiritual tour might be calling you:
You want to experience the energy of ley lines and sacred sites around the planet Earth.

You are at a threshold of breaking through new heights of your spiritual path and want a safe space and strong channel to guide you.

You know that you have spiritual connections ready to open up for your self-realization journey.

You are searching for more spiritual inspiration in your life.

You are not afraid of new experiences.

You are in desire to meet heart-like-minded people and a community support.

You want to discover more of yourself.

You have joined our work in the past and know the delivery of our offerings.

You are ready for a life-changing travel experience that "money can't buy".
What makes this retreat unique?

What makes this retreat unique is the opportunity to join a community of dedicated Earth Keepers, receive deep transformational support from Asil, George and the guides, and immerse yourself into the sacred sites selected by our guides for the transformation of Earth's energy grid.

With group energy adjustments, sessions, daily practices, and immersion into the group field, each day will deliver profound experiences and spiritual insights.

This is an extraordinary journey to the heart of one of the most integrated spiritual, intellectual, and artistic ancient cultures that humanity has ever known.
We look forward to welcoming you on this magical mission!
Welcome to our exclusive tour!
Discover the beauty and culture of our destination with our carefully crafted itinerary, designed to provide an unforgettable experience.
Choose from our flexible pricing options: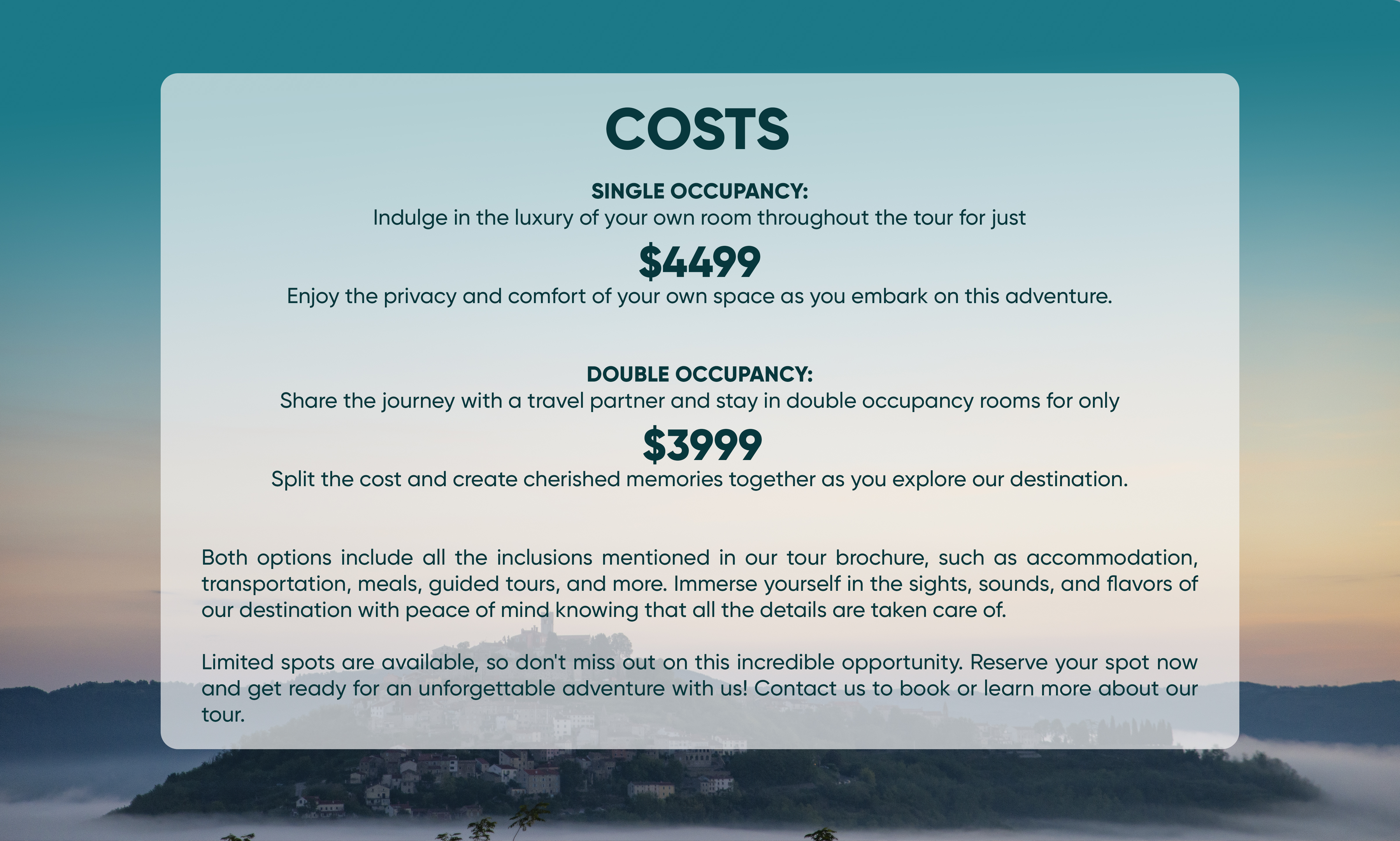 Cancellation Policy:
Before May 26, 2023: You may transfer your reservation to another person as long as: 1) You notify the Ascension One Collective team and 2) the person is an approved participant. In the event that you or Ascension One Collective can find a participant to take your place, you will receive a refund (minus $250).
After May 26, 2023: Ascension One Collective cannot honor any refunds after this date. If the venue(s) and/or country cannot accept visitors due to COVID-19, you will be offered an alternative set of dates and the Ascension One team will work with the highest integrity to transfer your investment to new dates or return your investment, depending on the options available.
If you test positive for COVID or are symptomatic and cannot participate in all or parts of the expedition, Ascension One Collective will not be able to provide a refund. Due to contractual obligations to our tour operator, there can be no exceptions to this policy. If you are concerned you might need to cancel, we suggest that you consider purchasing trip insurance through GeoBlue or a similar provider.
COVID and VISA Guidelines:
Both the Bosnian and Croatian governments do not require proof of COVID vaccination. Before you travel, we strongly recommend you consult your country's Department of Foreign Affairs to understand Bosnia (non-Schengen country) and Croatia (Schengen country) health and visa entry and exit requirements.
Follow us on social media, where we will be posting daily wisdom, snippets of transmissions and weekly tips, all related to our connection with Mother Earth